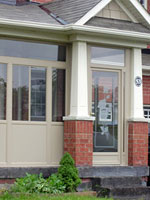 Porch Enclosures are becoming increasingly popular in the Greater Toronto (GTA), Mississauga, Hamilton and Kitchener/Waterloo areas due to their ability to add additional security while reducing energy costs. They serve as an additional barrier from the harsh winter weather as well as a bright and sunny terrace during the warm summer months. Patio and porch enclosures can be customized to fit any size or location which makes them an attractive energy way to our GTA customers.
Features & Benefits
At Windowtech, our primary goal is to ensure that our products and installations are low maintenance and hassle free while surpassing the longevity expectations of our clientele. Our entire porch enclosures are designed from high quality 2 inch extruded aluminum frames to protect against damage from warping, cracking, rotting or rusting. Our door frames are protected with enamel baked on finishes in a variety of colors to match your home, to prevent paint chipping caused by the harsh climate we often experience in the GTA.
To further increase the functionality and durability, all our window panels are built fitted with 3 mm tempered glass which is easily removable from either inside or out for easy maintenance. They can be switched for net, vinyl or aluminum screen mesh inserts to provide extra protection for debits and insects.
To further ensure that every one of our produces both meets and exceeds our standards, we only use directly factory-manufactured pieces no greater than 16 inches in length which are then used to for quicker and easier assembly, transportation and/or installation without skimping on durability or quality. This then allows for an infinite combination of panels that can be customized, including the options of storm door or sliding patio doors. For additional information on the types of entry doors, please refer to the Storm Doors, Garden Patio or Garden Sliding Doors tabs.
Combination Options
Due to their functionality and design features, porch enclosures are the most distinct aspects of the installation process. Below are some of the options we have available:
Simple single door and transom or glass and screened enclosure panel: This is one of the most commonly used door panels for porch enclosures in GTA as they provide superior visibility and ventilation.
Glass and Screened Divided Enclosure Panels with or without Transoms : This option offers a wider entrance option as well as excellent ventilation and visibility.
Side lights: These not only add functionality, but greatly increase the look and feel of grandeur of your entry way. They have the option of sliders and net ventilation units which allow the door panels to hold full glass panes with no obstruction to your view.
We have countless combinations of transoms, window, side light and door units which can be customized to your desires, ranging from 33 to 161.5 inch widths. Our installations are perfectly suited for any irregular sized or angular shaped space. They are always assembled on site with top priority by our in house specialists, which set us apart from our competitors in the GTA. Call Windowtech today to get started on your porch enclosure installation.
Our highly knowledgeable staff can help you choose which slider windows are best for your home. We stand behind our products with the best warranty in the Toronto area.