At Windowtech, we know that our clients crave convenience in their home remodeling and repairs. That is why we strive to be a one-stop shop for all things windows. From the finishing touches to window covers, we are ready to meet all of our clients' window needs, including blinds. Blinds are an essential part of a window; they add privacy and beauty to a home. At Windowtech, our experts can help you to not only choose appropriately matching windows to meet your aesthetic desires but we can offer you the blind options that will meet your budgetary and functional needs as well. Whether vertical, Venetian or traditional shades, be sure to contact our in-house specialists to learn more.
Windows Blinds for your Toronto Home
Solar-Glide
When it comes to light control, this unique rotating fabric panel gives you unlimited options; whether you want the blind fully raised for maximum exposure or in one of the hundreds of different possible positions, with a truly modern style.
The best choice for elegance, functionality and ease of use, Our Solar Glide Blinds are the newest choice in window shadings today and a unique addition to Shade and Light's line of products. Our Solar Glide Blinds allow for maximum light and privacy control.
Vertical Blinds
Among the most common blinds that our clients select for their needs are vertical blinds. These coverings are perfect for both commercial properties and residential settings as well. Vertical blinds, with their elongated structure, are fantastically suited for longer windows that are wider than traditional selections. They are also great on those windows that serve as a focal point of a room. Available in wood, vinyl, and fabric finishes, several style palettes can be met with vertical blinds from Windowtech.
All about Venetian Blinds
When it comes to traditional looks in window treatments, there is nothing quite like the classic look of Venetian blinds. Our Windowtech experts know that these horizontally slatted blinds are perfect for any space and they can be used on any window size and are available in two beautiful materials: vinyl and aluminum.
SHADES

Elegance of Roman Shades

Roman shades are all about mixing privacy and style with a bit of character. Made from a single panel of fabric, these shades are often lighter than traditional drapes while still allowing for a covered look. At Windowtech, our Roman shade selections are amazingly diverse. From deeply opaque and thicker options that bring a sense of depth to a window to lighter and more transparent fabrics, there is something for everyone who wants to incorporate Roman shades into their décor.
Contemporary Selections
Crisp pleats are the focal point of contemporary blinds selections like pleated and cellular shades. These options are available in a range of different colors and styles and have suited several of our Toronto-based customers very well, perfect for an office or home that wants to give an elevated style and sophistication to their windows. For added insulation, the cellular option with its unique honeycomb pattern is perfect for saving on energy bills. Contact your Windowtech experts today to learn more.
Roll Away Shades
Roller shades are increasing in their popularity among our customers. These shades can quickly lighten or darken a room and even come in a solar powered option. Modern and yet sophisticated, roller shades are a perfect option for longer windows or even for those that run from ceiling to floor. Windowtech experts can walk you through all of the details on installation and pricing options.
Privacy and Design with Vienna Shading
Windowtech offers a wide selection of Vienna shades for our Toronto customers. These window shades are all about versatility as they give our customers three distinct styles to choose from. Those that want lots of sunlight and minimum protection can choose our completely lifted shades. For those that want a darkened room look with little light penetration can choose our entirely closed slat option. Those customers that want a mixture of both the aforementioned can choose our middle option in a light-penetrating selection that relies on a mixture of light and airy slats that give versatility to a room.
Zebra Eclisse Shades
Looking for something different and unique for your windows, Eclisse shades may be exactly what you need. Eclisse shades alternate between sheer and solid panels that create a striped or zebra effect.What is great about these selections is that they are extremely successful in protecting against the sun's harmful rays and still offering style to a room.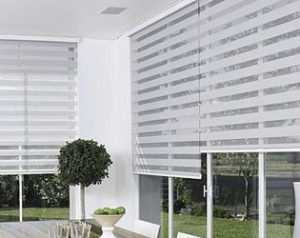 The Privacy Sheer
Used on larger walls with tall windows or in conjunction with Vienna shades, the privacy sheer is a beautiful option for homes that wants an airy look. Made from beautifully sophisticated drapery, privacy sheers help to create a homey and soft look in a room that is almost ethereal in its impact. If you are seeking softness and yet function for your windows, be sure to ask Windowtech about the privacy sheers.
Earthiness with Natural Weaves. Natural weave blinds are our most organically beautiful and rustic selection in blinds. Made from either poplar wood or from bamboo, Windowtech natural weaves are all about creating a style, privacy and truly darkening effect in your room.
Sliding Panels -Another Alternative
If you want something for your windows that is truly unique, consider buying sliding panels. The sliding panels are perfect for large sliding doors. There are vertical fabric panels of different transparencies and thickness installed on wheel carrier tracks at both ends. This makes sliding the panels effortless, while at the same time, regulating the remaining open section. Sliding panels are perfect in rooms with high ceilings and wide windows. Because of the adaptability of these windows and unique designs, you can literally make your window as big or as small as you want, giving you the power and control. Be sure to contact your Greater Toronto Area Windowtech service provider for more details.
At Windowtech, we are proud to work with our customers to help them meet their windows and doors needs. From installation to design, blinds are just one of the many services we offer. Whether you are in need of new styles in blinds or want to try something new, be sure to contact our Windowtech experts for more information. From Vienna to Roman shades to natural weaves and more, there is something for everyone with our range of blinds. We are happy to welcome you into our Toronto and GTA family of happy consumers!