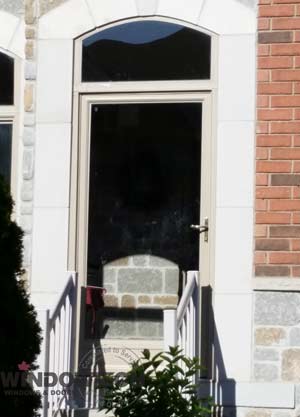 Storm doors are a great addition to the main access door as they provide superior ventilation and visibility if needed. They also offer excellent climate control as they provide an extra layer of insulation which can benefit your energy costs. Storm doors are a perfect solution for GTA, Mississauga, Hamilton and Kitchener/Waterloo residents. At Windowtech, all of our storm doors are designed with sturdy 2 inch aluminum to create a strong, secure door that will withstand the elements.
Benefits of WindowTech Storm Doors
Every single one of our storm doors includes 3-mm tempered glass for excellent protection, no matter what design you chose.
For extra security, reinforced die-cast corny keys, key-locking deadbolts and heavy duty closers come standard on all of our doors.
Our doors are insulated with wool-pile weather stripping around the perimeter and an adjustable bottom expander which fills gaps, equally an up to an additional inch of additional vinyl insulation.
To prevent damage from chipping, scratching and cracking, our doors are finished with electro statically applied and baked on enamels which are offered in white, dark gray, light and black hues.
Net, door and glass inserts are easily removable for easy cleaning and maintenance.
Insert and Panel Options
Style Arrangements:
Tri-Light: features a full clear glass pane (or bottom ventilation net unit) flanked by 2 fixed decorative glass panels.
One or Full-Light: features a net screen or interchangeable glass screen insert which is a great way to increase natural light and ventilation without allowing insects or debris.
Self-storing and High-view: the best mix of ventilation and visibility; these doors feature an adjustable sliding panel with a net insert.
Kick Plates can be added to the door for additional security without reducing visibility and airflow
Double French doors create superior ventilation and additional security as well energy efficiency. They can be installed with one fixed panel or both as operational doors in many varieties of glass designs.
Design Options
Storm doors create an attractive accent to the entryway of any Greater Toronto Area home and are available in either designer v-groove or sandblast etched designs.  As we only use tempered glass, the durability of the glass is not compromised by these stylish accents.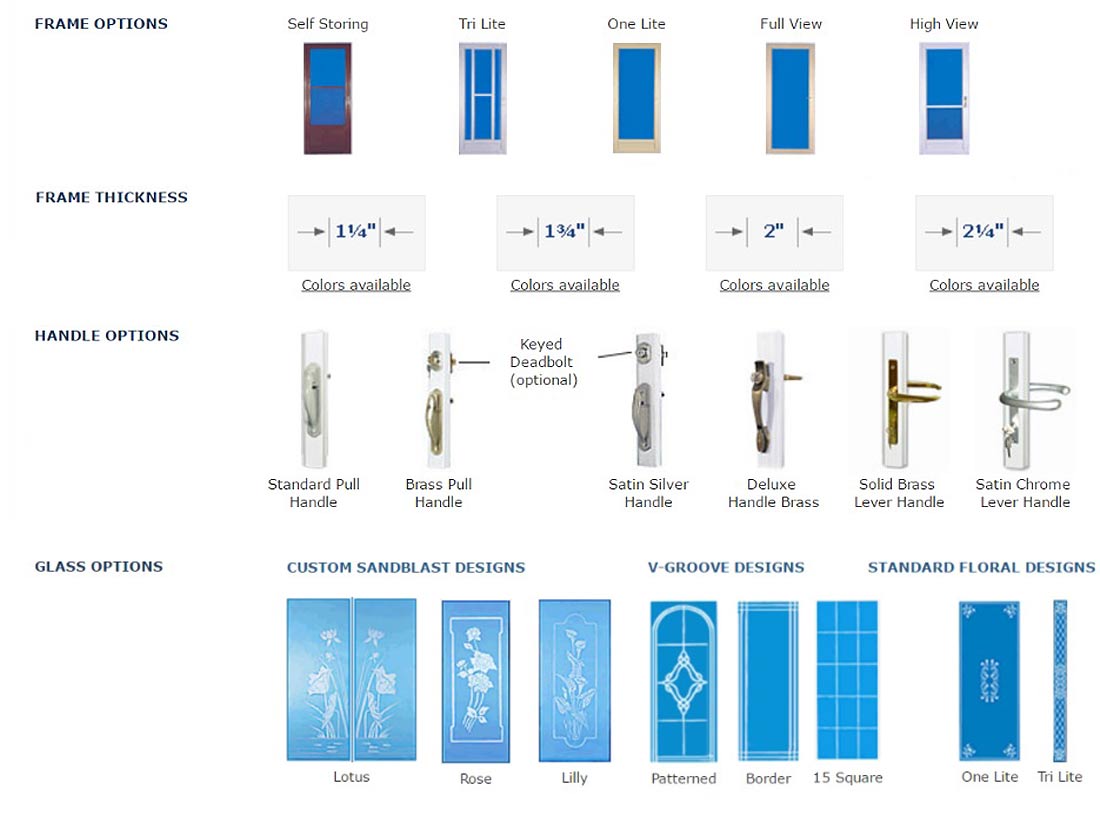 Hardware Options
A quality storm door is never complete without a matching, durable, heavy duty lock and handle. All our doors are installed with 4 heavy-duty, non-corrosive, oil-lite bearings which can stand wear and tear as well as harsh weather conditions. They can be color matched to your preference. DX Pull Handles and CR Level Handles are available in a wide variety of styles and colors to add style as well as security to your storm door with a choice between keyed deadbolt or handled locks.
As you can see, the possibilities are limitless when it comes to style, decor and security with our vast selection of storm doors.